Hi Donna,
"Thought I would send you an update on Puffy and some pics. Puffy has now had two patients that she has visited and I truly believe she brought some joy into their days before they passed. Our most recent visit was with a lady who had dementia and she seemed so miserable except when she was able to pet Puffy. It is so weird, Puffy just goes limp as soon as the patients start petting her, it is like she can sense that they need her love. It seems that all their pain and illness disappears for the short time Puffy is with them. Puffy has also become a VERY big hit at the nursing homes, all the ladies will ask if I can take her out and let them pet her. I will carry her
around the room and she loves the attention that she gets from every single person! She also enjoys the car rides back and forth; and you can tell she is SO proud of herself when we get home.
We are beginning a new set of patients this upcoming weekend, I'll keep you updated on Puffy's performance! She loves sitting with the people and the people ADORE her!
Puffy Puffy Princess Videos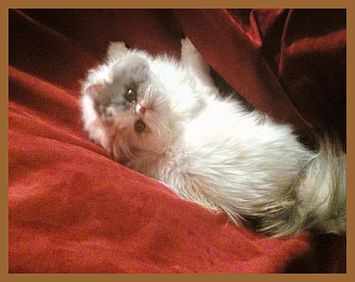 Hello Donna!
"We just wanted to update you, and let you know that we are both doing great! We are the best of friends.
The main reason I wanted to email you was to let you know that Puffy and I will be volunteering at the local hospice. Puffy and I recently met with the owner and everyone fell in love with her because she has such a sweet temperament. They immediately asked us if we would come and volunteer, letting the patients spend a little of the time they have left with a beautiful persian! I give you full credit for raising such sweet and good natured cats. It is truly a gift to others bringing these puff balls into the world; they bring so much joy. Puffy is so adaptable and loves everyone. One of her favorite things is taking rides in the car. We are so excited to start volunteering in late February."
Warm regards,
Puffy and Kira
Nutmeg Video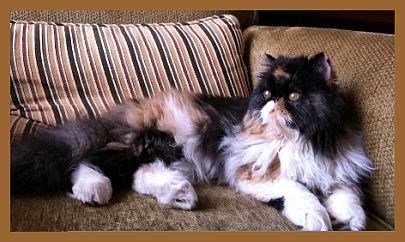 "We have now taught her to fetch, yes I said fetch, you can throw a little ball for her and she will run and get it and bring it back and drop it. She is the cutest and sweetest thing ever!"
Thanks much,
Tammy
Posh Persian Pale Moon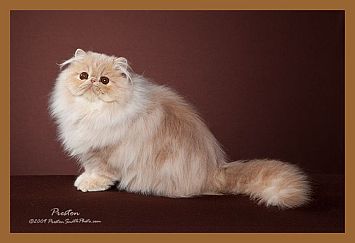 Thanks to Diane for loving and taking such wonderful care of "Chai", and thank you for your friendship.
CH Posh Persian Tiny Bubbles of Sybil
Thanks to Sylvia for showing and taking such good care of "Madison".